$20 Off Plumbing Services
24/7 Emergency
Plumbing Services Available
Send us a message.
We'll be in touch.
Call 1st Choice Plumbing First When You Have an Emergency Plumbing Issue or Need Regular Plumbing Services!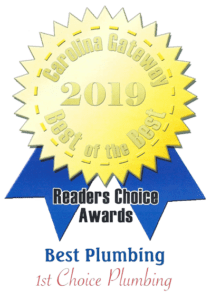 Call us first for all of your plumbing repairs in Rock Hill, SC and the surrounding areas of Fort Mill, Indian Land, York, Clover, Tega Cay, and Lake Wylie. At 1st Choice Plumbing, our obligation is to you, the customer. We will strive to make each and every customer 100% satisfied. When you need a plumber, make us your 1st Choice for plumbing!
Call today or send us a message.
1st Choice Plumbing Service Coupon
$20 OFF
Any Service Call from 1st Choice Plumbing!

Print this coupon and present it to your Service Tech.
Online Special 8
Offer only good on service calls exceeding $125 in labor. Cannot be combined with any other offers. Must present coupon to receive discount. Print this coupon and present it to your Service Tech.
Trenchless Water Line Repairs
We're A Full Service Plumbing Company
Plumbing Services
Plumbing Repairs
Expert Drain Cleaning
Well Pumps Repair/Replacement
Water Filtration/Purification
Gas & Electric Water Heaters
Gas Tankless Water Heaters
Faucet Repair/Replacement
Garbage Disposals
Water Line Repair/Replacement
Sewer Line Repair/Replacement
Sewer Ejector Pumps
Certified Backflow Testing
Video Inspection & Leak Detection
Trenchless Waterline Replacement
Repiping
We're Your 1st Choice for Well Services!
For many people (especially in rural areas of Rock Hill, SC), a well is their only source of clean, potable water for their families or livestock. That's why 1st Choice Plumbing offers complete well services. Since 2008, we've been servicing wells in our local communities, providing professional installations and repairs on well pumps and pressure tanks.
To keep your water source in peak condition, it's important to have your well and pump inspected on an annual basis. We can check your well's output with a flow test, evaluate the performance of your pump and pressure tank, and examine all well equipment to make sure it's functioning properly. Taking time to care for your well now is a great way to avoid costly damage and repairs in the future.
We're Your 1st Choice for Water Filtration Systems, Too!
We use water every day in our homes and businesses. Water is essential for hydration, cleaning, and health. You deserve water that is not only fresh, but clean and safe. 1st Choice Plumbing is here to help protect you, your family, friends, and customers by offering water filtration systems that fit your specific needs including whole-home solutions.
If your water is metered, a filtration system can filter out undesired chemicals, such as chlorine, as well as organic and inorganic materials, and other contaminants from your water. Well water can be tested for "hard water" and PH levels giving us the opportunity to suggest a water softener and acid neutralizer. We also offer sediment and carbon filters, too, which are a great solution for taste and odor problems associated with wells.
Call today or send us a message.

1st Choice Plumbing: Serving You Since 2008
Serving Rock Hill and surrounding areas, including Fort Mill, Indian Land, York, Clover, Tega Cay, and Lake Wylie.
Contact us today to learn more about our plumbing services.

1st Choice Plumbing serves the Rock Hill and Lancaster areas, including Tega Cay, Fort Mill, Clover, and Indian Land. Call us first for 24-hour plumbing repairs or for an estimate.
Senior Citizen, 1st Responders & Military Discounts. SC MASTER PLUMBER LICENSE
#110209