What makes a gas tankless water heater so great?
Here are just a few of the many reasons homeowners are going tankless.
Stop heating and reheating unused water sitting in your tank. Turn on your faucet and continuously heat only the water you need.
Shower after shower, load of laundry after load of laundry…you'll never run out of hot water.
With the typical life expectancy of a tankless water heater being 2 to 3 times longer than a conventional storage tank, replacement intervals are longer and there's minimal maintenance.
When you go tankless, you have no more worries about your storage tank clogging with deposits and rush…no pilot light to waste gas.
We install only Navien Tankless Water Heaters.
1st Choice Plumbing | Online Special
SAVE $309
On the Purchase of a Tankless Water Heater from 1st Choice Plumbing!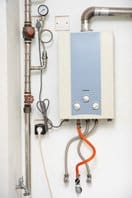 Print this coupon and present it to your Service Tech.
Online Special 6
Cannot be combined with any other offers. Must present coupon to receive discount.
Call 1st Choice Plumbing now about installing an endless supply of hot water.
Going tankless saves you money and space.
A tankless wall-mounted water heater takes a fraction of the space used by a conventional hot water storage tank. Most units are about the size of a suitcase mounted to your wall.
Tankless water heaters save you the money you're now spending daily on heating and reheating the water sitting in your tank.
Tankless water heaters dramatically cut water heating costs compared to traditional heaters with storage tanks.
Tankless water heaters can pay for themselves as quickly as 3 years based on energy savings alone.
Properly sized, most tankless water heaters last about twice as long as conventional tank water heaters.
Ready to go tankless?
Tankless technology is revolutionizing the world of water heaters.
Can you run your dishwasher, clothes washer, and take a shower–all at the same time–without worrying about running out of hot water?
Are you tired of being last in the shower line and ending up with a blast of icy water?
How would you like to pay to heat only the water you use as you use it…instead of paying to heat the 50 gallons sitting in your tank 24 hours a day, 365 days a year? Tankless technology can cut your gas bill in half.
Discover how easy and affordable it is to have unlimited, endless hot water on demand.
Tankless technology offers your family comfort and convenience while saving you both money and space. Chat with a professional plumbing technician at 1st Choice Plumbing about the benefits of gas tankless water heater technology. Call for an estimate in our service area, which includes Rock Hill, Fort Mill, Indian Land, York, Clover, Tega Cay, and Lake Wylie, SC.
* Please note that we sell gas tankless water heaters only. These are the most energy efficient options available on the market today.

1st Choice Plumbing serves Rock Hill and surrounding areas, including Fort Mill, Indian Land, York, Clover, Tega Cay, and Lake Wylie, SC. Call us first for 24-hour plumbing repairs or for an estimate.
Senior Citizen, 1st Responders & Military Discounts. SC MASTER PLUMBER LICENSE
#110209